Introducing the Honeywell Searchline Excel Plus and Edge. The BEST Open Path IR Hydrocarbon Detector On The Market Just Got MUCH BETTER.
A Cutting Edge 1,082' Hydrocarbon Detection Path Length Is Just The Start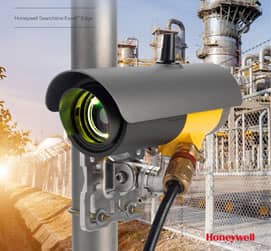 When you combine the absolute Best-In-Class high-end coaxial measurement and dual reference wavelengths optics with complex filtering and advanced algorithms you get the very best performing, most reliable Open Path Infrared Hydrocarbon Gas Detector for harsh real-world industrial environments.
Robust detection, even in limited visibility, provides vastly improved and unbeatable uptime.
Improved Performance
Unmatched extended operating range up to 1,182 feet (improved from 650' max.) with the Searchline Excel Edge, providing the longest available operating distance on the market by almost double. The Searchline Excel Plus monitors path lengths up to 393'.
Searchline Excel Plus - 2 m to 120 m (6 ft to 393 ft) Path Length
Searchline Excel Edge - 60 m to 330 m (196 ft to 1082 ft) Path Length
A single Searchline Excel Edge can tackle distances that require 2 to 3 competitive open path IR hydrocarbon detectors to monitor
Searchline Excel™ Edge can see through the thickest fog, rain and mist, significantly better than any other Open Path Gas Detector, whether NDIR or Laser-based. This is evidenced by the greatly extended operating distance.
A normalized, flatter response to C1 through C6 Hydrocarbons, providing a more consistent response across a broad range of gases
Wider measurement beam simplifies alignment and makes the gas detector more tolerant of movement
Performance certified ANSI/FM/IEC/ EN60079-29-4
Simply the best performing Open Path IR Hydrocarbon Detector on the market
Improved Ease Of Installation
The simpler and cleaner Searchline Excel Plus/Edge is designed to make every aspect of product installation and commissioning faster and easier.
A new 316 stainless steel Fixed Platform Universal Mount is supplied fully assembled, greatly simplifying and shortening field installation of the Universal Mount.
The Fixed Platform Universal Mount can be mounted using a wide variety of fastener options, including U-bolts, Unistrut and stainless steel bands, with long mounting slots (instead of holes) that easily accommodate any mounting surface or poll.
A single bolt attaches the IR Transmitter or IR Receiver to the Universal Mount, allowing for easy and quick installation or removal.
Plug in terminal strips make short work of field wiring, which are clearly labeled for the technician.
Improved Ease Of Alignment And Commissioning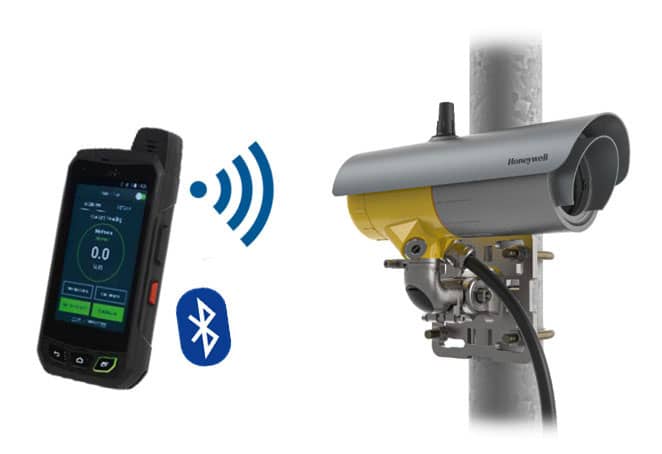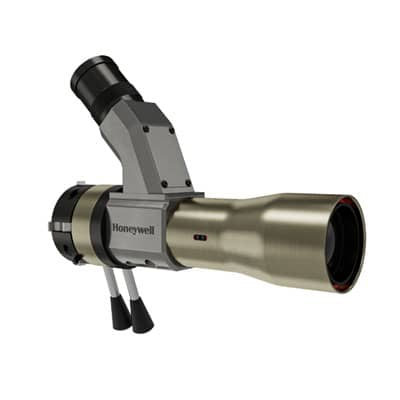 Bluetooth®-enabled to allow set-up and interrogation from ground level or where you can sit in the shade using Honeywell Fixed Platform Application on an Android mobile device. Range of up to 60' away (mobile device dependent)\
The Honeywell Fixed Platform Bluetooth App provides in-hand installation guide and auto-reporting with familiar smart device technology to aid in installation, configuration, commissioning and asset management
A new advanced, high-power alignment scope enables simple, robust, one-person alignment. A single alignment scope is used for both the IR Transmitter and IR Receiver.
The alignment scope range is dramatically increased, providing greatly improved resolution for the longer operating distances of the Searchline Excel Edge. This significantly improves the scope performance for more common shorter operating distances
The addition of circles with crosshairs when viewing through the scope greatly facilitates zeroing in on correct alignment
Standard Outputs
Industry standard 4-20mA output; HART®, Modbus and Bluetooth® communication, along with relays for Alarm 1, Alarm 2 and Fault, all supplied as standard
Improved Ease Of Operation And Maintenance
High visibility LED HALO ring shows at-a-distance visible instrument status behind the lens of the IR Receiver. Green-Normal, Red-Alarm, Yellow-Fault, Orange-Inhibit and Blue-Bluetooth connected.
A green LED Halo light ring behind the lens of the IR Transmitter confirms that you have power to the infrared light source

GREEN
Sensor is in normal condition
4 mA or above but below alarm set point
Indicator for Normal can be switched off using the Fixed Platform App
RED
Gas leak detected above the set alarm threshold
Alarm threshold can be set using the Fixed Platform App
Flashing indicator for high visibility of potential hazard
BLUE
Status of Bluetooth connection to smart device
Sensor is connecting (flashing)
Connection has been established (solid)
YELLOW
Maintenance
Sensor is in fault condition (flashing)
Sensor is in inhibit condition (solid)
No field calibration required, just a simple bump test with Test Filters
Simplified test filters and gassing cell enables easy set-up and bump test with the Honeywell Fixed Platform App
Full logging and auto-reporting of faults, alarms, commissioning and maintenance activities
Built-in health test and time/date stamped event logging
Automatic optimal alignment test monitors the Searchline Excel Plus/Edge IR Transmitter and IR Receiver pair for optimal alignment, allowing operators to maintain highest levels of performance
Field replaceable electro-optical modules for the IR Transmitter and IR Receiver eliminates replacement of a complete unit in the field, greatly simplifying and quickening field repairs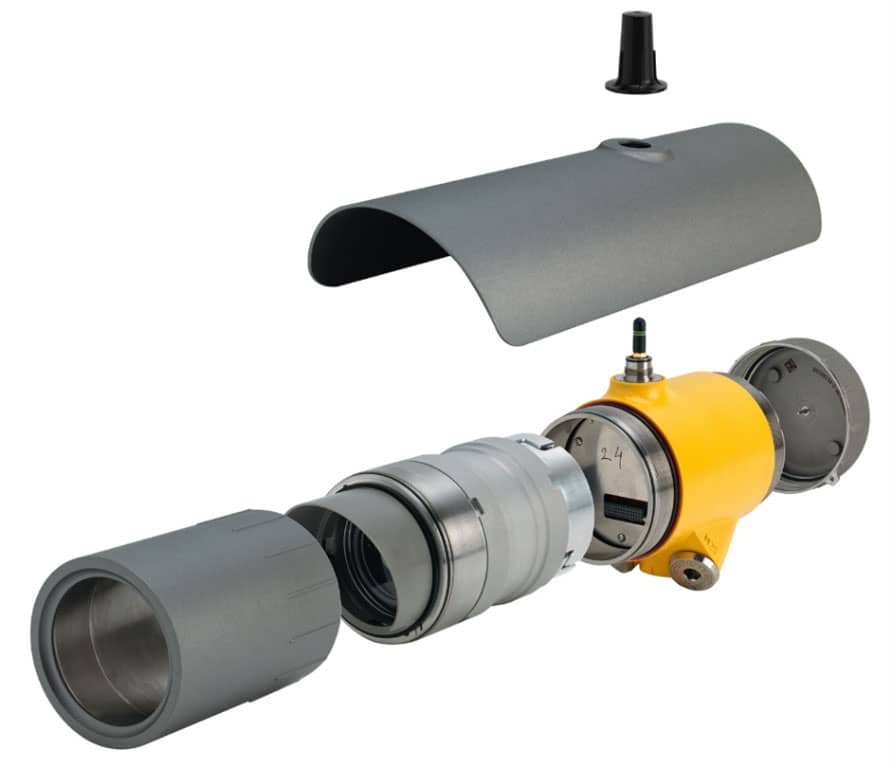 Certifications
Worldwide approvals for hazardous areas including cULus, FM, ATEX, IECEx, INMETRO, CCCF; Ex d; Zone 1,
Marine approvals
SIL2 certified to EN61508 by TÜV (SÜD)
Ingress protection IP66/67, Type 4X
Look at this interview with Detection & Measurement Systems President, Mark Dundas, to learn details on the lengthy history behind development of Honeywell open path hydrocarbon detection technologies and the Searchline Excel Plus and Edge.